Looking for the Best Product Photographer in the UK for Your Next Photo Shoot?
Selecting a product photography partner can be challenging and exhausting. There are thousands on choices, huge differences in product photography pricing, and a large number of portfolios to sort through. We have prepared our list of top 10 product photographers in the United Kingdom.
For this list we included both product photographers who include pricing on their pages and also photographers who did not post any pricing information, but had very good portfolios on display.

This list does NOT include any affiliate links, it is a result of our research and subjective review specifically for ecommerce photographers. There are many excellent photographers who specialize in high end advertising photography that were not included in this list, as they service a different segment of the market than the one we focused on.

Top 10 Product Photographers in the United Kingdom

This is a product photography company based in London.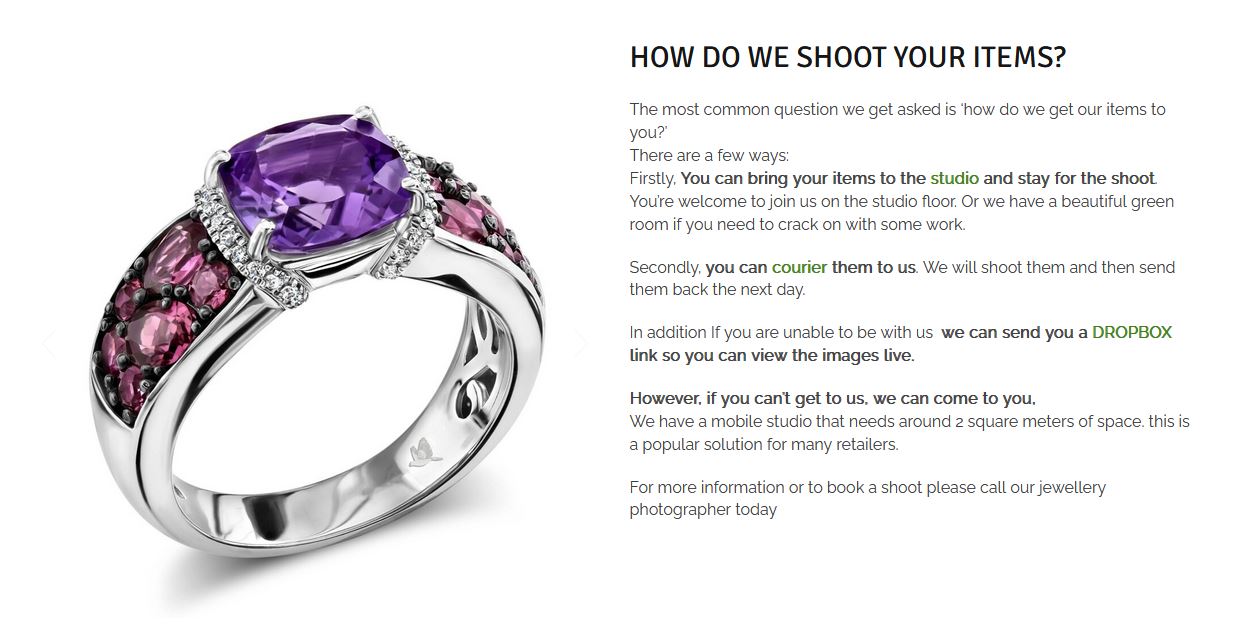 Pros: Flat Frog specialize in jewelry photography and fashion photography. We especially like the quality of the jewelry packshots. Clothing on model also looks pretty good. The pricing starts at £800/ day and standard turnaround times are 5-7 business days. There is one page that says 5 clothing on model photos cost £20/ garment, which is very cheap for any location. Ghost mannequin pricing starts at £12/ garment (3 photos), which is a very cheap price.

The quality of the jewelry photos looks good. Payment and refund terms aren't really listed anywhere on the website, so they are probably negotiated on a case by case basis.

Cons: The product photography portfolio displayed online just has a few photos and one of them is jewelry, which likely means that this studio doesn't have a lot of experience with general Amazon photography. The ghost mannequin photos in the portfolio don't look particularly well-styled. The studio is quite small and the don't have any sets, so any lifestyle product photography would have to be limited to still life photography or renting an additional location outside of the studio.

Verdict: For jewelry photography and companies looking for cheap clothing photography, Flat Frog Films looks like a reasonable choice.

2. Pic-Up

Another product photography company in London, UK is Pic-Up. This company specialized in packshots and do all sorts of products from fashion photography, bags, invisible mannequin photography, accessories, jewelry photography and more. They also do 360 spins and Amazon packages.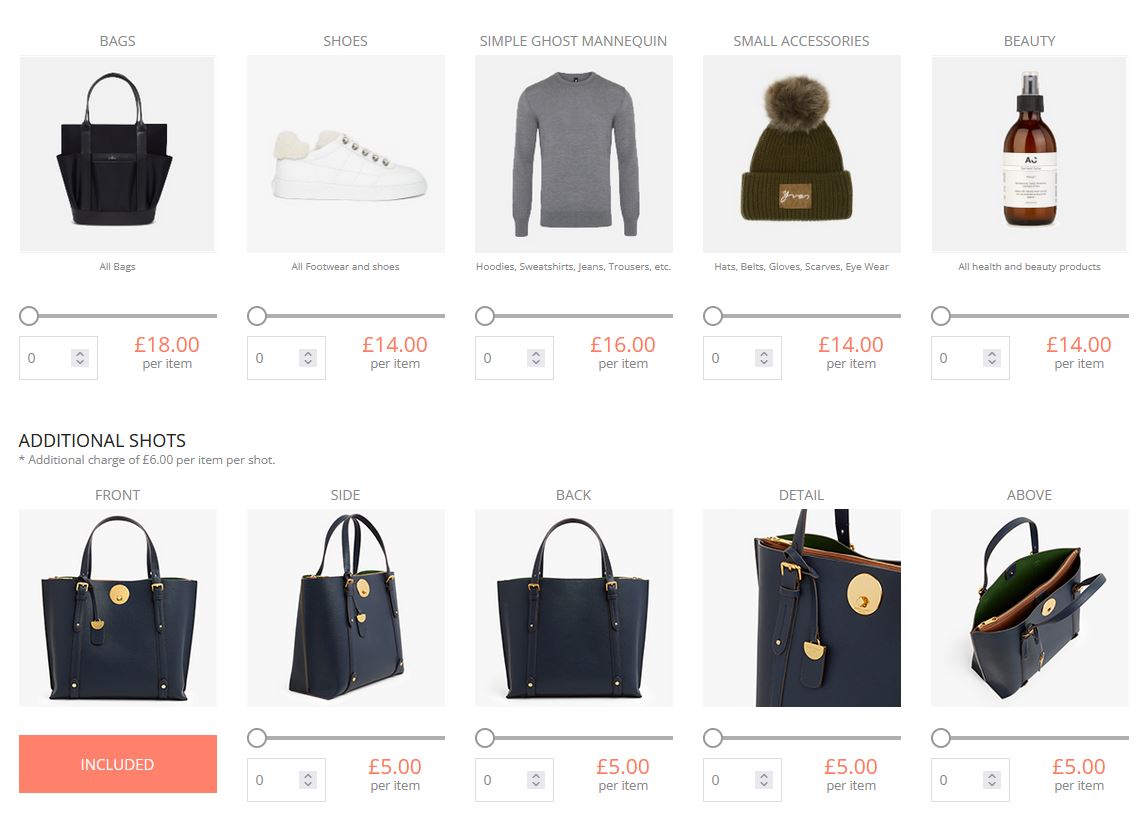 Pros: Reasonable cost for packshots. Product photography prices start at £14 (without VAT) per product with each additional photo costing only £5. So if you have a lot of products that only need packshots, this definitely looks like a good choice that will give you good results at a good price per image.

This company has experience in a lot of different product categories, so it looks like you can get top quality product for most product categories.

There is a simple price calculator and booking form that you can use straight away to book your next photo shoot.

Cons: Booking minimums, this company has a booking minimum of £300, so if your actual booking amounts to less than £300, you will be charged the difference as a "service fee" and VAT, so you need £360 to book any photo shoot with this product photography company. So if you have a single product that you want to launch on Amazon and want 5 product on white images and some infographics, the final price is £360. For on-model photos, say you have 30 garments and you want 5 photos each, the price with VAT is £1,296, which translates to £43.2/ garment but this price does not include hair and make-up or model . The published hair and make-up artist fee is £300/ photo shoot, so the actual price per garment is £55 + model fees. The same is true for lifestyle product photos. The Advanced Package includes 5 packshots, 2 lifestyle product photos and infographics and it is priced at £1700 (before VAT), which means those lifestyle images really are very expensive.

Verdict: For packshots and large volume orders, this looks like a great service provider in the UK, but for anything more complicated you will have to up your budget by a lot.
A top quality product photography studio based in York that offers a wide range of services and stunning lifestyle photography. They photograph clothing, jewelry, metal objects, pet products, bags, and more.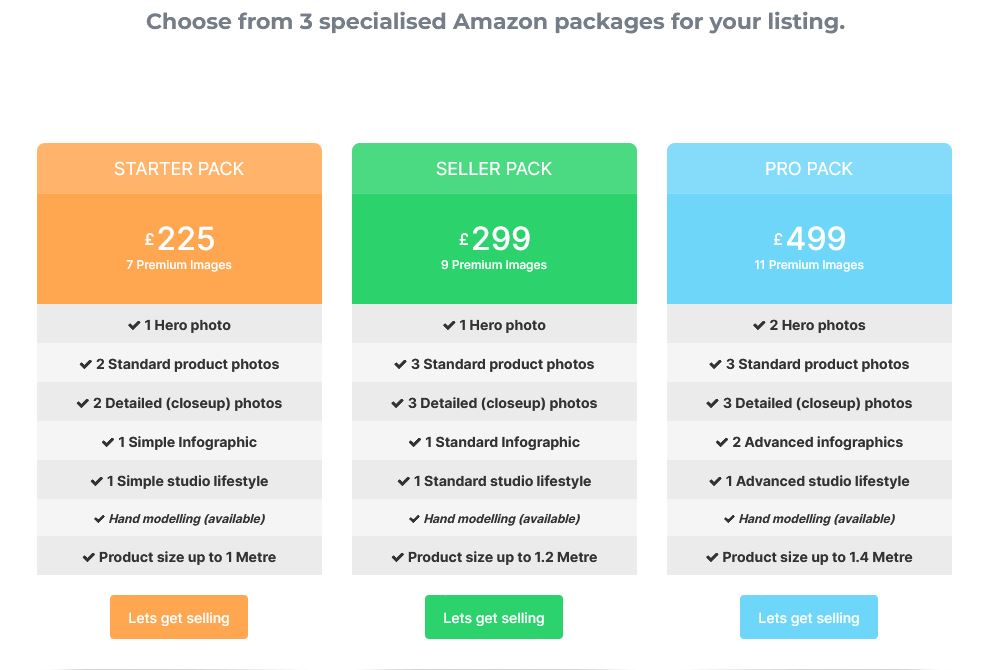 Pros: Very professional execution along all product photography categories they work in, especially for packshots photography, clean and well-lit images, which is very important. The infographics design is beautiful.
Their product photography pricing is clear, transparent and reasonable, starting at £14/ photo (without VAT) and £8/ photo (without VAT) for bulk pricing.

Cons: Lifestyle product photography price is up there. For example their Amazon starter pack, which includes 5 product on white photos, 1 simple infographic, and 1 simple studio lifestyle image is priced at £225, which translates to £155 for 1 simple lifestyle photo + 1 simple infographic image (We based this one their listed price, so 5 * £14 = £70, then £225 - £70 = £155). For standard lifestyle photos and infographics the price climbs from £155 to £229. From the portfolio we understand that a simple lifestyle image is one created in studio setting using paper backgrounds and basic props (still life photography), and standard lifestyle images are composites stock photos.
I don't really understand the different between standard infographics and advanced infographics, the both look similar complexity. The pro pack includes 8 product on white photos, 2 infographics, and 1 advanced studio lifestyle for £499.
Verdict: Great quality product photography at very reasonable prices in the packshot category. However, since virtually all Amazon product listings now need lifestyle images and increasingly so video to be competitive, the lifestyle product photography pricing makes this otherwise appealing product photography service a not ideal choice for Amazon sellers in particular. But for bulk packshots orders, Photograph My Product is definitely a "Yes".

4. Product Packshot Photography

A product photography studio based in Loughton, Essex.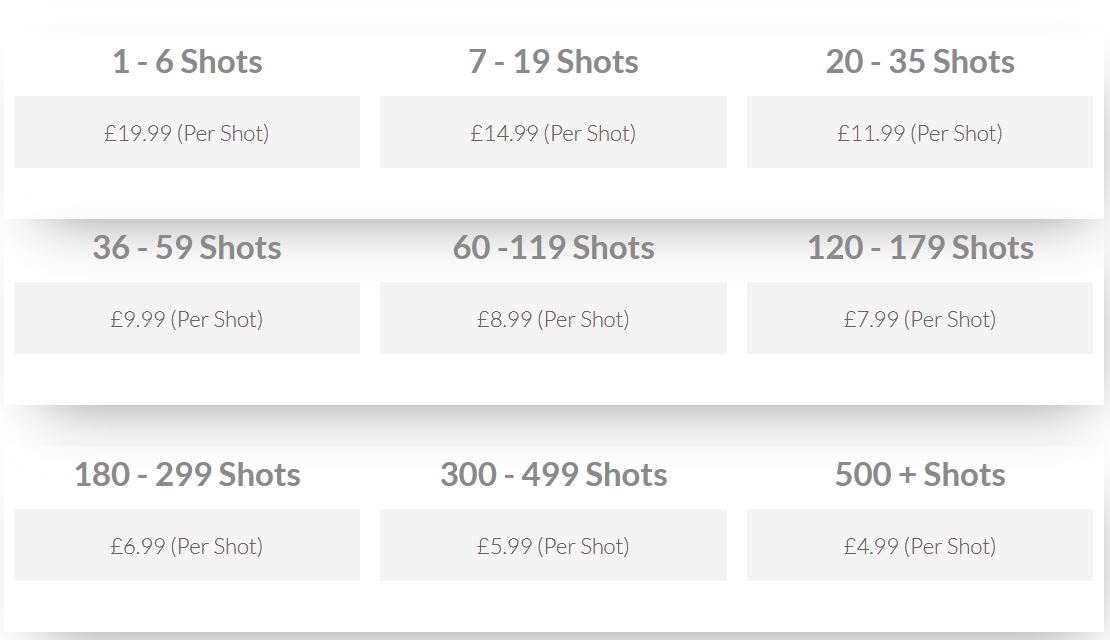 Pros: The biggest pro of this studio is the very low price. Starting at £19.99/ photo for 1 - 6 photos, the price drops to £4.99/ photos if you order 500= photos for your project. The lighting, while not exactly something to write home about, is still pretty good and definitely meets all platform's requirements. This studio also does 360 spins priced at £59.99/ spin for 20-36 frame spins. (FIY Amazon requires a 72 frame spin). The infographics all look clean and well-designed, which is definitely something good.

Cons: For jewelry photography, the price is £24.99/ photo, which is surprising considering the low price for standard packshots. Also the lighting on the jewelry photos is very basic and can definitely be improved. For lifestyle photography the options are limited to still life photography, as there are no sets.

Verdict: This is another packshot photography studio that is absolutely a great choice if you only need product on white photos, and the price is very attractive. We would definitely choose it for high volume projects where the requirements are not very high, and as long as the product is not jewelry.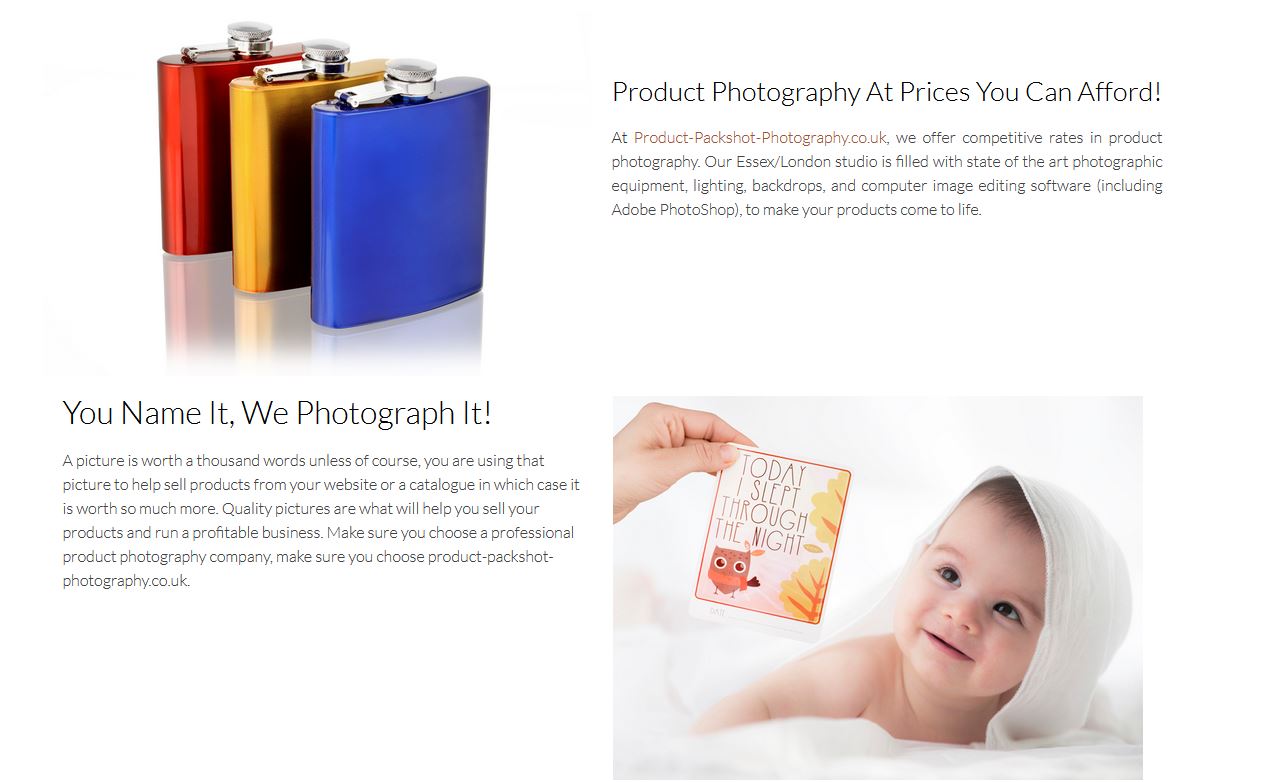 Based out of London's Edgware road, Blend Studios is a well-rounded full service high quality product photography service provider in the UK.
This product photography studio has a portfolio that is excellent in every way.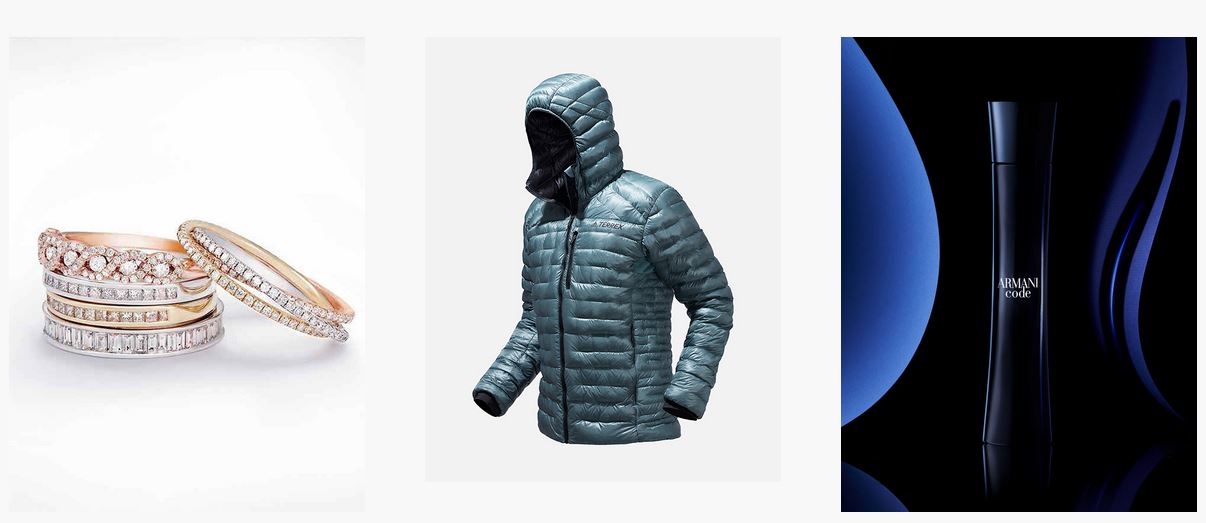 Pros: Beautiful lighting and editing, it is very clear from every photo that the team behind the images really care about producing top quality work. The jewelry photography is fantastic, the styling of the clothing photos is very modern and high-end, the lifestyle product photography is simple but very creative and impactful, the 360 images all seem 72 frame and are well lit and edited, and the videos are sophisticated.

Cons: The only con I can think of is that this product photography company doesn't publish pricing information, which makes think that they may be more geared towards 4As and campaign type work. I can't imagine the prices to be low, but the type of quality requires a lot of work and whatever the price is, it is justified.

Verdict: As a producer, this is my top choice in the UK. If you can afford to work with this product photography company, definitely go for it.

As the name implies, this is a company specializing in product photography based in the West Midlands in the UK. They seem to specialize in Amazon FBA sellers and a variety of products.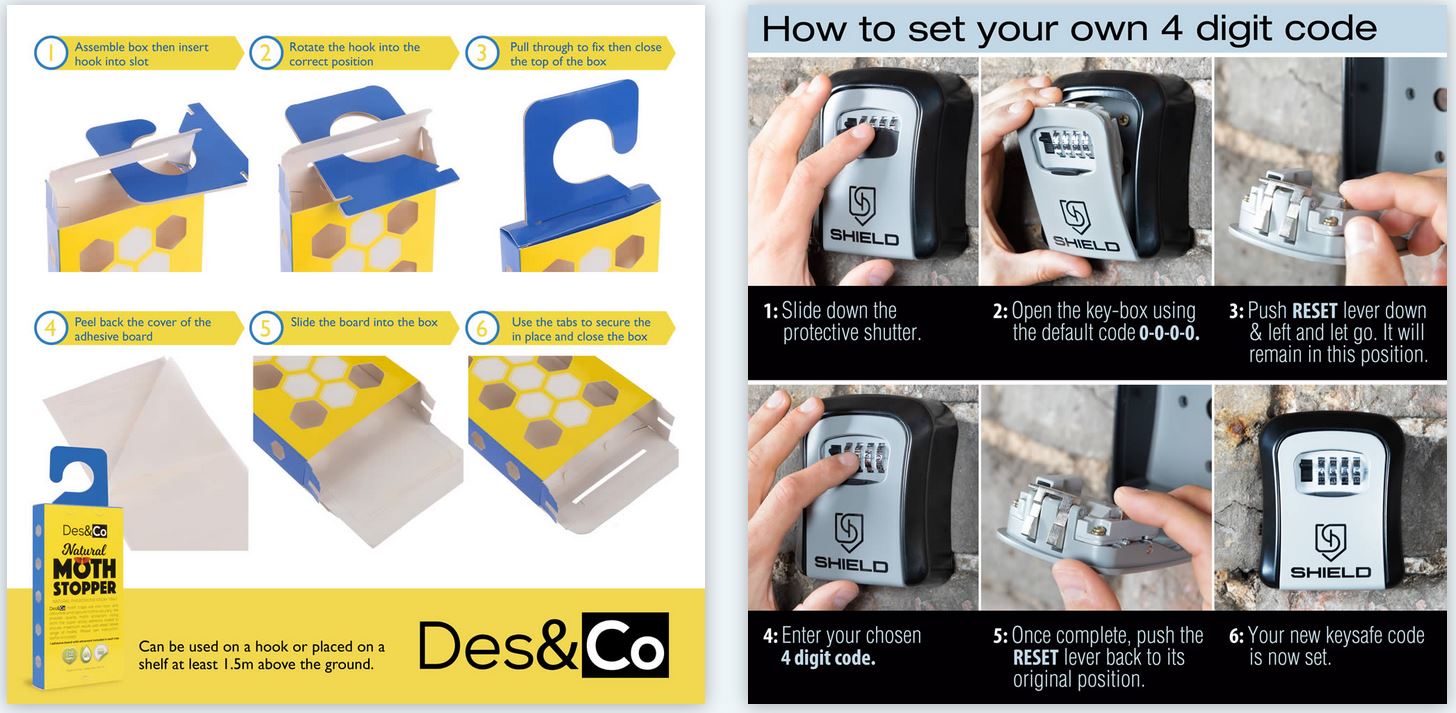 Pros: This product photography company's biggest strength seems to be infographics design. It presents the majority of their online portfolio, and the designs are simple and clean. The product photography itself is also pretty good, basic clean lighting and retouch that is sufficient for most listing purposes. The product photography pricing is very reasonable as well, starting at £219 (including VAT) for 7 images (1 hero shot, and 6 packshots). If you want to add an extra hero shot and 2 infographics, then the price is £299.

Cons: Lifestyle product photo production capacity seems to be limited and the studio showcases mostly very simple studio still life photos and composites using stock photos. Stock photo composites can be great, when realistic, but the amount of post-production needed to achieve that usually increases the price quite a lot, but you need to contact the company and ask for a quotation for your specific project. Also stock photos can be bought by anyone, unless you buy an exclusive license, which means (even thought the probability is very low in most cases) that some competitor may end up with the same stock images.
Verdict: For Amazon sellers in particular, this seems like a very good product photography service that provides all the tools to create a good quality listing.
Kalory is a photo and video company based in London that specializes in jewelry photography, packshots, and still life. On the website it says that Kalory is the Best Commercial Photography Studio for 2022.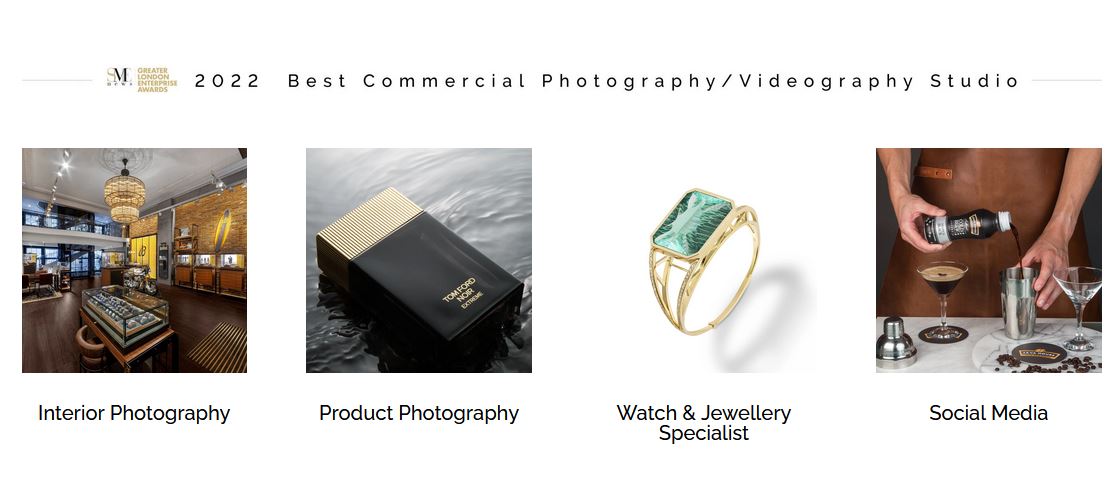 Pros: Packshots for jewelry, watches and other hard products look great. Lifestyle products photography also looks pretty good, and the social media photography is nice and clean. This studio seems to have a lot of experience with cosmetic products photography and styling, so this is definitely a plus if you need photos and videos for this type of product category. The video production is also very nice for hard products. Lighting and styling look good.

Cons: The ghost mannequin photography styling isn't the best, and on-model clothing photography also does not seem to be their specialty and the photographer/ stylist isn't very experienced with providing direction to the models.

Verdict: For hard products and cosmetics, this product photography team is a solid choice. For clothing, there are better providers. Kalogy does not post any pricing information, so you will have to contact them for pricing or with a budget to see if you can work together.
This is a product photography studio based in Dorset, England. Just like Products Photography UK, this company specializes in Amazon product photography, and they also do a lot of Etsy product photography.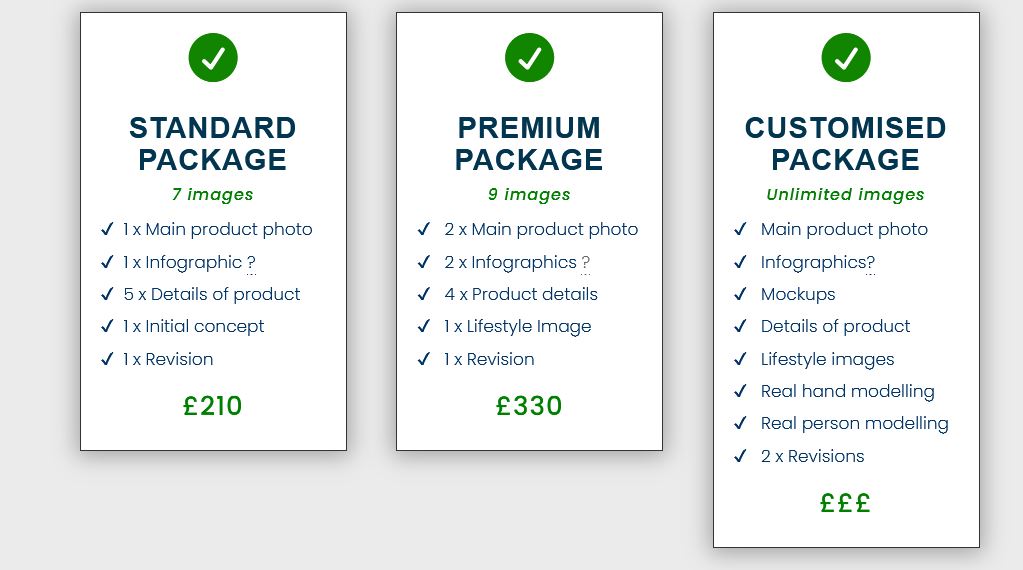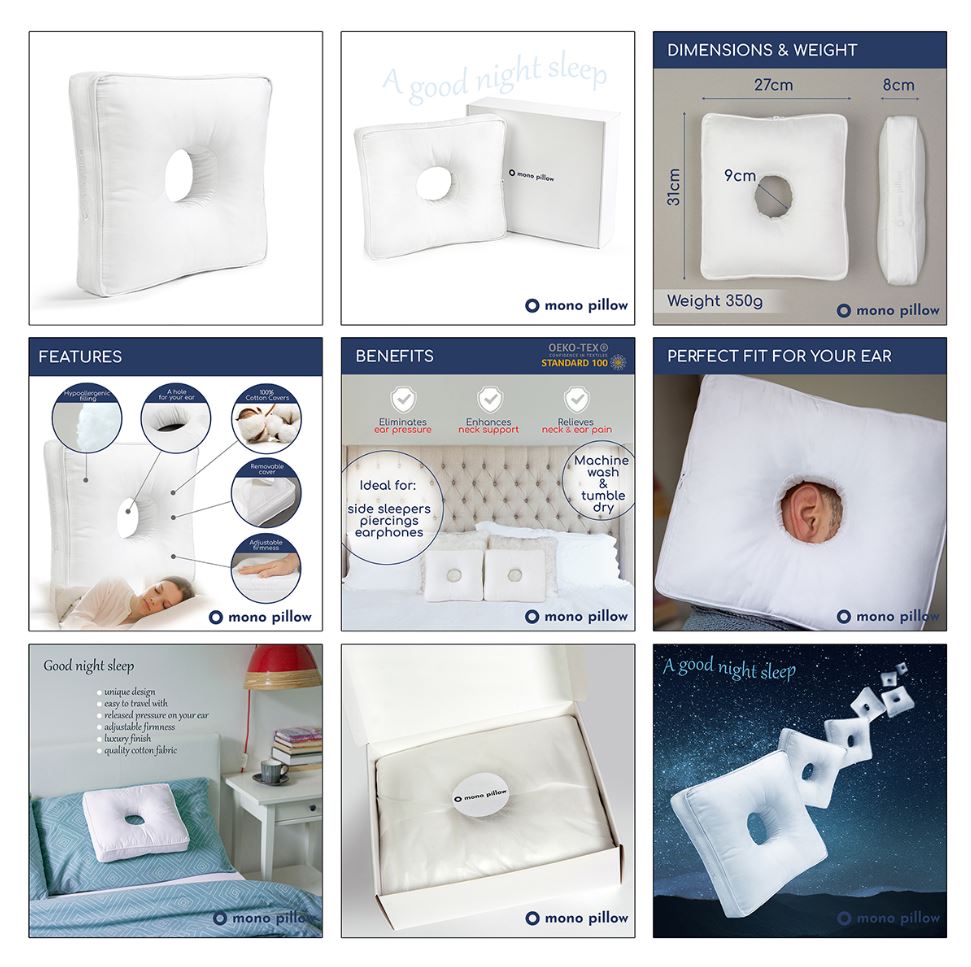 Pros: If you are looking for a good general product photographer with decent lighting technique that can also do solid infographics design, this photography company is a good choice. We also like that they do real lifestyle photos, instead of stock photo composites, and there is a hand model in-house. Pricing starts at £210 (not sure whether this includes VAT or not) for 6 photos and 1 infographic, which is about £30/ image.

Cons: Adding a lifestyle image to the package increases the cost with over £100, which could be good depending on what is included in the price of the lifestyle photo and whether you need to pay extra for basic props and setting.

Verdict: This studio is a good choice for Amazon photography and Etsy photography if you are looking for solid quality and infographics with attractive design.

This is an ecommerce photography company Swanborough, Southern England.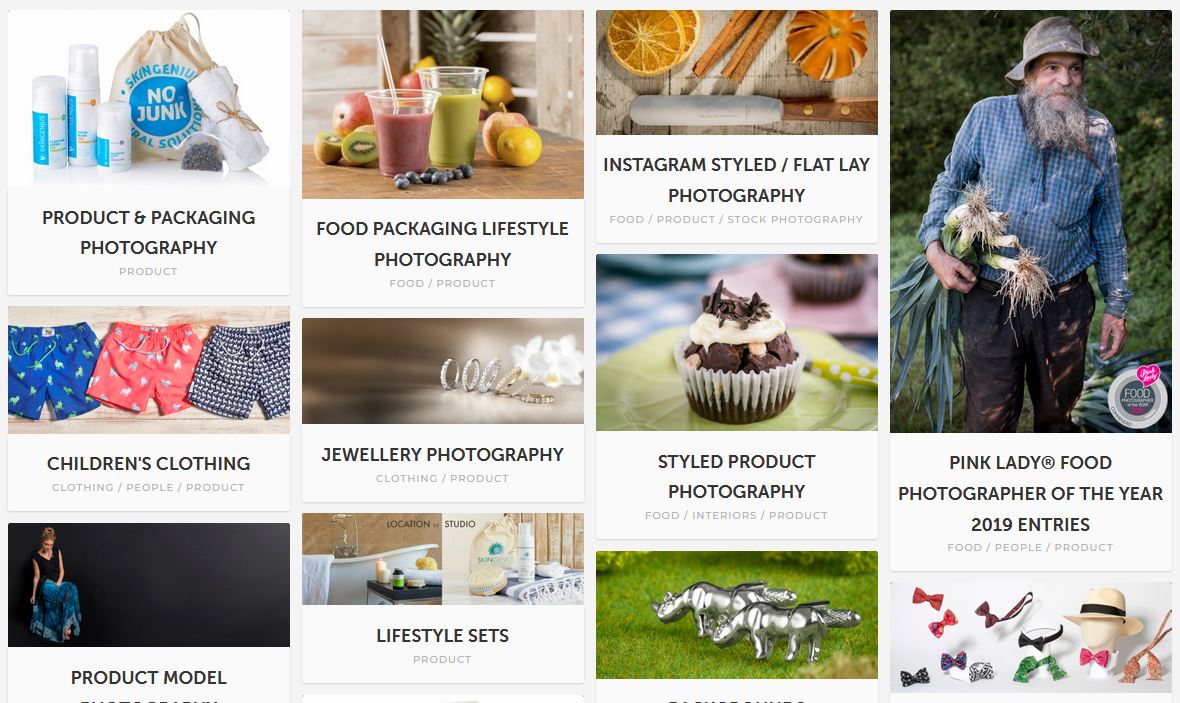 Pros: This is the one photography studio on this list that really specializes in lifestyle product photography with their own sets, as a result the lifestyle photos are very nice without being too advertising like, which makes this service very suitable for Amazon sellers. We also really like their male clothing on model photography, the styling and posing is very natural and the photos look great. Infographics also look good. Pricing starts at £14/ photo for standard packshots and £140 booking minimums. The model fees start a £20/ hour, which is a lot cheaper than what we pay in China, lifestyle photos start at £45, and Amazon packages start at £185.
Cons: For female clothing photography and ghost mannequin photography, the samples presented in the portfolio are not the same quality as other product categories, so we don't recommend choosing this company, if your product falls into these photo categories. Additionally, even though lifestyle product photography starts at £45/ photo and models are only £20/ hour, an Amazon package with "combination of white background and lifestyle images (plus additional lifestyle images for use in extended listings) shot on location, including professional model." will set you back £950 + VAT, and adding a video will push the total cost to £1750 + VAT, which actually is quite a lot, especially since the team doesn't have very strong experience with female model direction, or script writing for video.

Verdict: This UK photography company is a good choice for your business if you want basic product photos and simple lifestyle images on set that are not ghost mannequin or require a female model.
This photography studio is based in Norfolk, England, and specializes in product shots.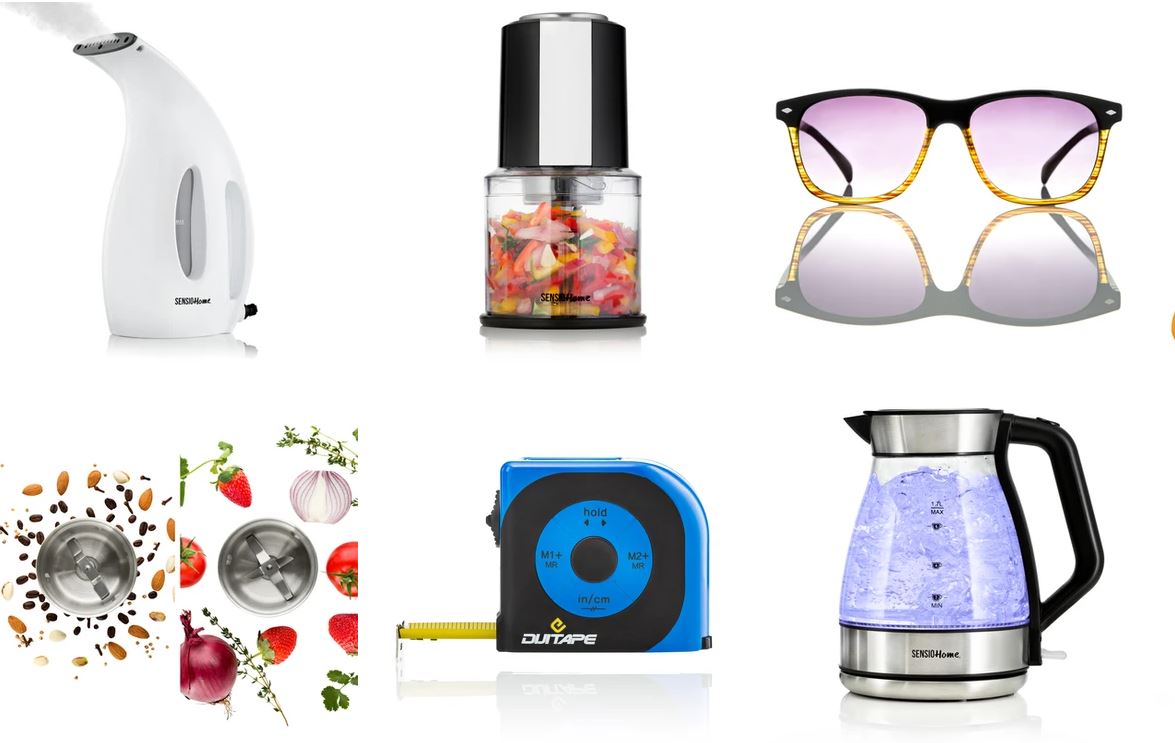 Pros: Clean lighting and styling for hard products and watches. The ghost mannequin styling is also mostly very good, so if you give food direction you should be able to get good results as well. They offer transparent pricing with ghost mannequin pricing starting at £12/ photos for bulk orders (100+ photos) and £28/ photo for 1-5 photos. Surprisingly ghost mannequin photos are cheaper than hard product packshots, which start at £14/ photo for bulk orders and the price for a single photo is £36. Lifestyle photos start at £45/ photo for bulk orders and £70/ photo for a single photo.
Cons: Once again the lifestyle photography composition is limited to in-studio basic background changes. This photography company is more specialized in stock images composites with prices starting at £50/ photo for simple complexity composite (we assume this is the fee for retouch only, without the actual photo that needs to be retouched into the stock image), and goes up to £80/ photo for complex work.
Verdict: This is the best service for ghost mannequin photography in this list. The price is reasonably and the quality of lighting and styling is good. For packshots this is also a solid choice, but things get more complex if you need lifestyle photos to your mix.

Summary.
There is a lot of choice and budget options for packshot photography with the average white background photo costing around £14/ photo and some providers selling them for as low as £5/ photo. It is the lifestyle images that cost a lot with the average price around £80/ image for fairly simple images.

---
Bonus:
If you manufacture in China, consider using our China product photography and video production services. We have over 150 photographers in China, a variety of stunning real sets, multiple props, foreign models available for hire, pet models, stylists, and more. We also provide a more limited product photography service range in Vietnam, India, and Eastern Europe. Prices start at US$9/ packshot photo and US$40/ lifestyle photo.

See samples of our product photography work here.
Learn more about our product photography pricing here.