Looking for a Great Product Photographer for Your Next Photo Shoot?
The search for a new product photography partner can be overwhelming. There are many choices, wildly different price points, and a variety of portfolios to choose from. We have prepared our list of top 10 affordable product photographers in the United States.
We did not include photography companies that don't post pricing information on their websites. We also didn't include any studios that use photography machines in place of breathing photographers.
This list does NOT have any affiliate links, we researched the topic because we wanted to see how much product photographers across the Pacific charge for their work, and there wasn't a similar in depth list available.
Top 10 Product Photographers in the states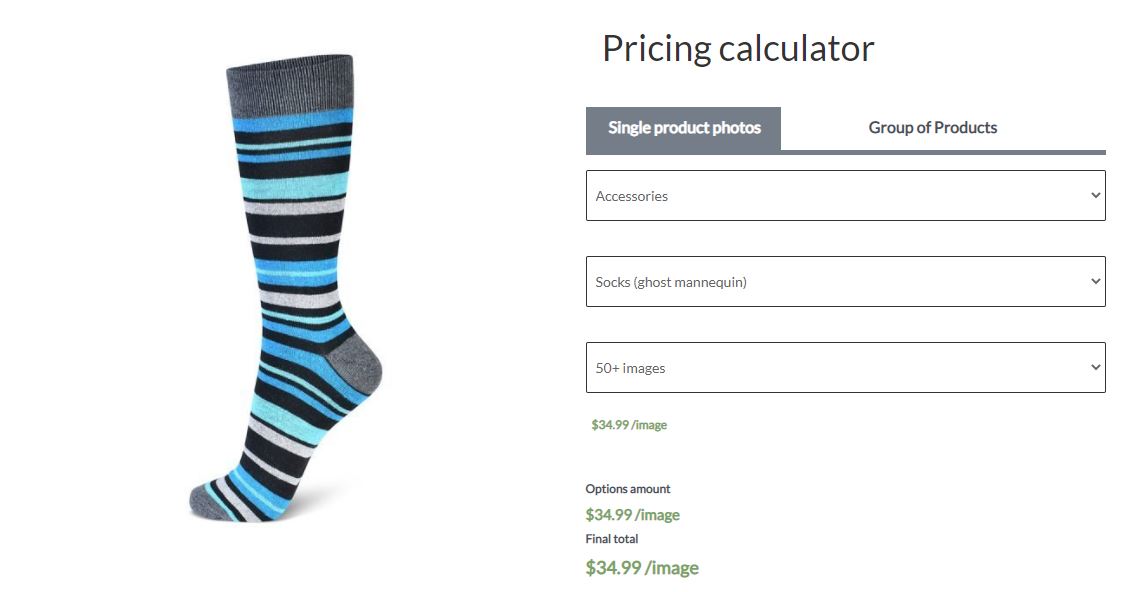 Pros: Pro Photo Studio offers product photo services all over the US with studio locations in Florida, California, Texas, New York, Nevada, Arizona and more, allowing you to choose a location not far from you to save on shipping costs.
We like their pricing calculator. You can play around with it to get an idea of how much your product photo shoot will cost. So for example getting 50+ photos of socks ghost mannequin style will set you back $34.99 per image or $1,749.5 for 50 photos.
This product photography company also does infographics for Amazon listings with prices ranging from $129-$199.
The quality of the photos looks good. Their terms and condition are pretty standard with free reshoot and rework (given that you have provided a clear direction before the shoot).
Cons: Slowish turnaround at 6 business days for product on white photos. They do not seem to have any sets available sets like living room, bedroom, bathroom, etc, so their lifestyle photo options would be limited to creative play with background papers and small props. Anything else would have to be custom made (read extra cost), and the lifestyle photos already start at $249/ photo, which isn't really cheap.
Verdict: For product on white photos and infographics this is a good solution if you want a good product photographer in the US.
Another great solution is a studio based in Texas, conveniently called ProductPhoto.com LLC. This company offers the lowest pricing for product photography in the US that we were able to find. For clients that need to create over 701 photos, their price is only $7 per photo, which is truly unbelievable, considering that after a certain amount of photos the photoshoot becomes a very complex job from a project management standpoint.

If you are looking for a low cost provider, this is definitely your go-to photographer, especially if you are based in Texas and can ship your samples without paying a fortune.
Pros: Low cost. Our 50 socks ghost mannequin project would cost $750 at this studio.
Experience in a variety of product categories including bags photography, bathroom product photography, kitchen photography, fitness products photography and more.
Simple booking. Just fill in the booking form with basic information about your photoshoot and you are all set.
Cons: No styling. There isn't a professional stylist on the team, and this is especially clear in the soft products photos like clothing and bags.
Lighting and post-production could be better. The photos are nice, but they lack a certain crispiness to them, which is most likely combination of lenses used, lighting set-ups, and lack of a dedicated post-production team.
Slow Turn Around at 5-10 business days. Anything faster and the rates start going up. There are also surcharges for some products types like jewelry, clothing, and a hand model costs $15/ photo.
Verdict: Seriously, for the price this service is great, and if you are on a very tight budget definitely consider this studio in Texas. We think this service is probably best used for Ebay and Etsy.
3. Professional Product Photography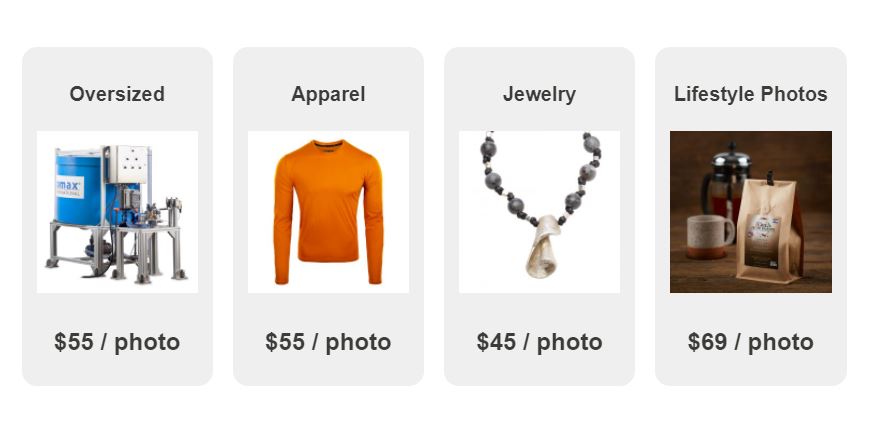 A product photography studio based in Colorado that offer really good price to quality ratio, and good lifestyle photography.
Pros: Excellent lighting. We really like the lighting, this studio pays a lot of attention to getting a nice well-lit photo, not just a snap. They also have some really good-looking 360 spins and stop motion images. Lifestyle images and infographics also look clean and stylish.
Pricing is transparent and simple with basic product on white photos starting at $35, lifestyle photos at $69, and product spins at $139. Our sock project would cost $1750 at this studio.
Cons: We didn't see a lot of discounts for larger products, but projects of over 50 photos do get a $5 discount/ photo.
While the lighting is really good, the post-production and shadow retouch is a little inconsistent with some photos getting odd bulky shadows. For soft items like bags and apparel, the styling and retouch looks slightly incomplete and not completely symmetrical.
This studio also doesn't have room sets for lifestyle photography.
Verdict: Very good lighting for product on white photography for hard items. Definitely a "yes" in Colorado.
4. Product on White Photography
An excellent product photo studio based in Chicago, Illinois. We love their metal products photography, glass products photography, and white on white photography. Overall great lighting and post-production, crispy clear images and clean shadows.

Pros: High quality photos with attention to detail in lighting, local length choices, and post-production. This is definitely the quality all photographers should aspire to produce. For small size hard goods, this is as good as it gets.
Cons: A little pricey. The 50 socks project would cost $3249.5 with this studio. And a little slow, standard rates comes with 10 business days turn around time. Good results take time and effort, and if the team is small, this can only result in a higher price, so that's understandable.
Unfortunately, this studio also doesn't have sets, and instead they offer lifestyle composites, this is they retouch your product into a stock photo for $150 per photo. Given the time it takes to create a realistic image with the composites approach, this price is good.
However, in reality it is much more difficult to achieve this than it sounds, and the most difficult part is finding a suitable background photo. 4A ad agencies very often work with composites to produce truly beautiful images, however, all elements are usually custom photographed, so they are at all the angles that match, which is the key for a great composite, and they also cost thousands of dollars per composite.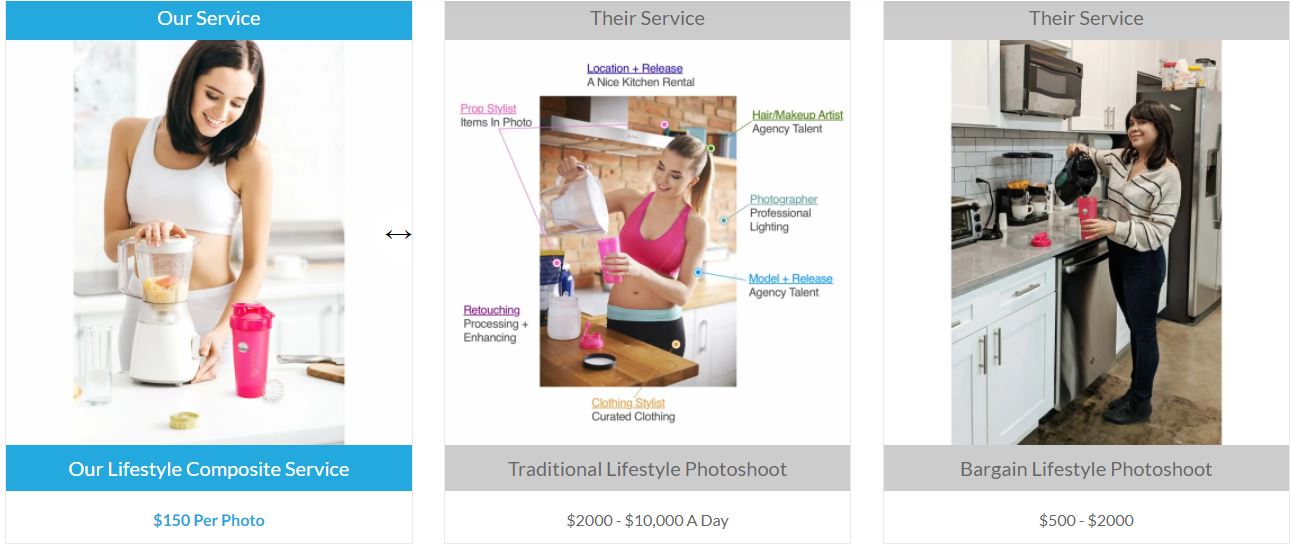 Based out of Ohio, Elysian Studios is an all-round full service high quality product photography service provider in the US.
Their portfolio is very nice and we especially like their work for clothing, ghost mannequin photography, accessories, and flat-lay clothing photography. It is clear that there is a stylist on the team.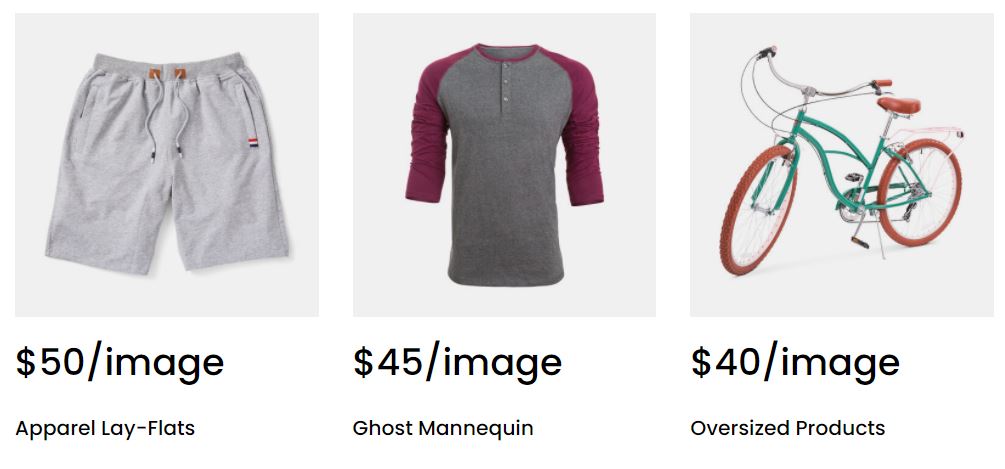 Pros: Great lighting and editing, While they don't have sets in their studio, their lifestyle images are very stylizes and beautiful. Maybe they are more suitable for social media and editorials, than for an Amazon listing that needs to show the functionality of a product, but the work is beautiful.
The studio does seem to specialize in clothing photography and they have a lot of models clients can choose from. Model photoshoots start at $30 per photo + $125/ hour for the model fees. Image delivery times ate 3 business days after image selection, which is very good, especially for lifestyle and on-model photos. Our sock project would cost $2250 at this photo studio in Ohio.
Cons: They don't offer huge discounts for large orders, with orders of over 100 products potentially qualifying for a 25% discount, but their starting fees are also not very high, so for the quality we think the price is very fair for the US market.
6. Squareshot
Squareshot is a photography company with studio locations in NYC, Los Angeles, CA, and Austin, TX. They also specialize in clothing and accessories photography.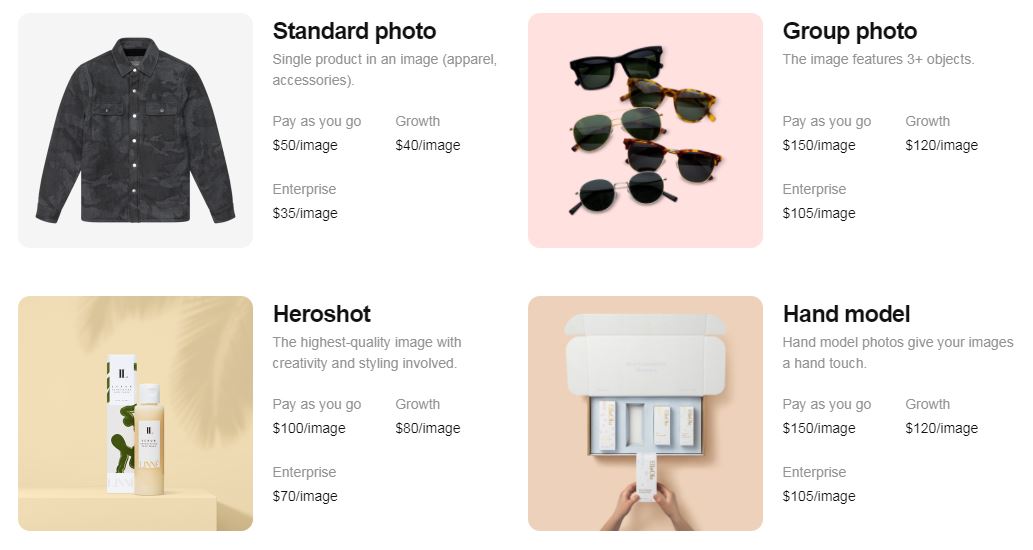 Pros: Very solid portfolio in clothing, accessories, and beauty. It looks like there are solid teams with photographer, assistant, stylist, and retouch artist for each shoot. Like it should be.
Our imaginary 50 sock project would cost $2,500 on the pay as you go plan, and $1,750 with the Enterprise plan that is a subscription that costs $159/ month (billed annually), and $245 / month (billed monthly). If you shoot a 1000 product on white images with the Enterprise subscription (and pay annually), the average price per photo will be $36.9, or a total of $36,908.
Cons: 8 business days turnaround is a bit slow for the price, and you have to pay extra for faster turnaround, but it isn't specified how much. We don't really like the subscription model that forces clients to subscribe to a service they may choose not to use long term. There is no mention of a trial, and there is no mention of cancellation policy for the subscription, if any.
YellowDuckWorks is another product photo studio specializing in clothing and accessories that is based in Miami, Florida.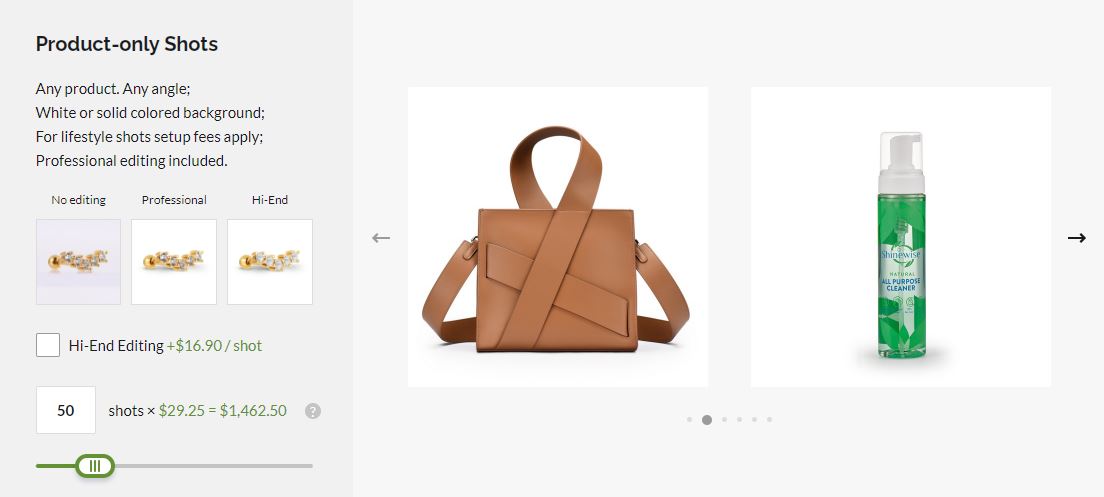 Pros: Nice clean product shots with good lighting and post-production. There is attention to detail with soft items with styling and post-production to make them look appealing and show their features. They have a lot of professional models to choose from. We really love the quotation calculator, very simple and easy to use.
Cons: Another studio that does not have sets, so if you are looking to do something like curtains photography, kitchenware photography, or something similar, they will have to do a location shoot and this usually cost a lot more than a studio shoot.
Our sock product photography project would cost $1,462.50 at this Miami based product photo studio.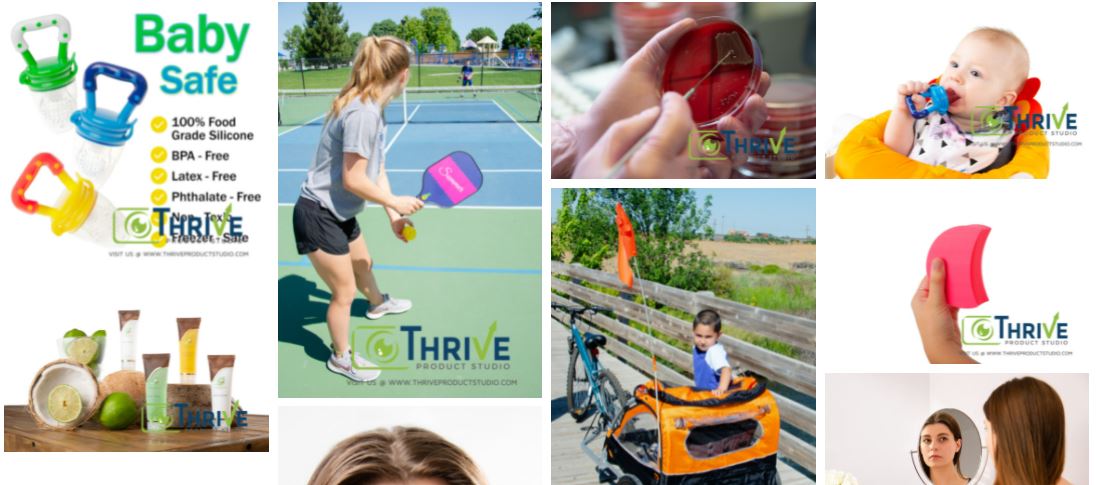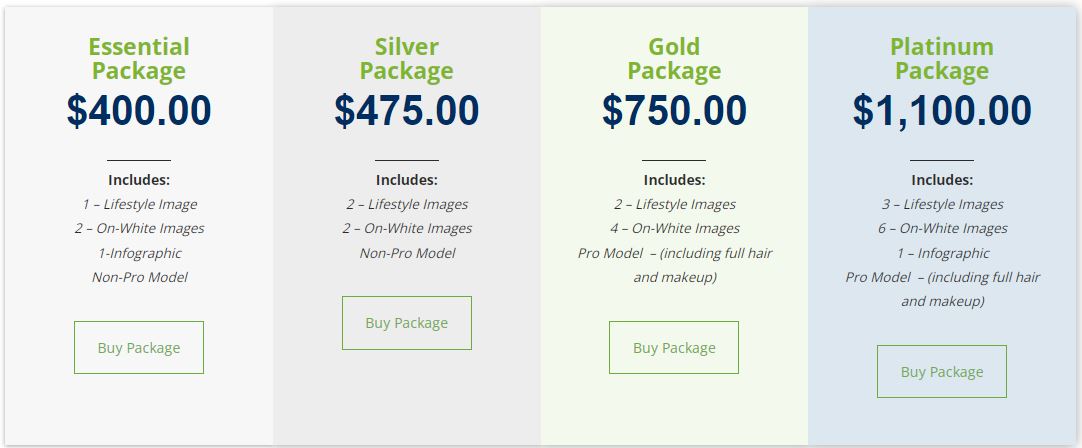 Thrive is a professional photo studio based in Salem, Oregon.
Pros: We really love this studio's dedication to lifestyle photography. From their portfolio it is clear that they will go and do a product photo shoot wherever you need, be it a farm or a mountain. This is really refreshing to see, for lifestyle images it makes a huge difference when the product is photographed in a setting. This does make their product photography pricing higher with product launch packages starting at $400 which includes 1 lifestyle photos, 2 product on white photos, and 1 infographic.
Cons: Their product on white portfolio isn't very strong, the lighting isn't crispy, focal lengths are a bit odd, and post-production is very basic.
The price for 30+ images is $22.5 per image, so our imaginary sock project here would cost $1,125.
9. Soona
Soona is a photography company with locations in Austin, TX, Denver, CO, and Minneapolis, MN.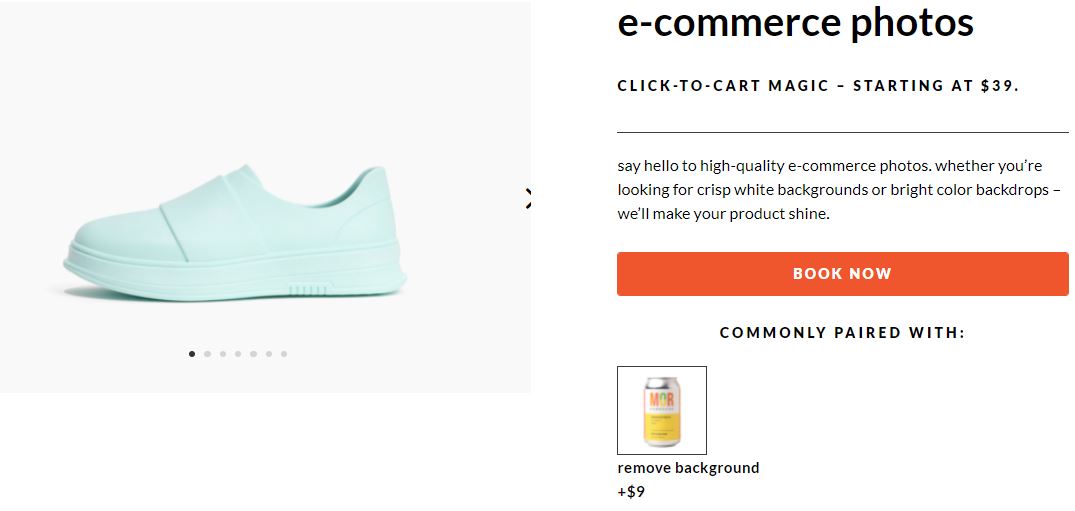 They definitely specialize in creating social media content for beauty products. In their portfolio you will find a lot of photos on colorful paper backgrounds with sharp shadows, a hand, and quirky smiles.
A side note: This company market themselves as an innovative virtual photoshoot company, which is funny, because this photo shoot model has existed for at least a decade, and if you want live access to your photo gallery during shooting, I am 100% sure all companies in this list (and most photographers in general) can arrange that.
Pros: No minimum. You pay a $39 booking fee + any addons, and then pay for however many product photos you select from what their photographer takes. So you can get a photoshoot with a very minimal financial commitment upfront. This company also allows for clients to go on photoshoots, just like a traditional photography company, so if you want to attend your photoshoot, this is definitely a good choice. Also their gallery is integrated with Shopify, so this saves some time with downloading and then re-uploading images to shopify users.
Cons: Photos start at $39, but then everything else is an add-on, for example hand model $99, pet model $139, styling $249, grocery shopping $149(!), ghost mannequin $249, and steaming $99. There is a $20 return handling fee, which is on top of the actual shipping charge.
The homepage says photos delivered in 24 hours, but in their FAQ they say it actually says within a week.
Only basic retouch is included in their standard price, if you want dust and scratches removed from your photo, this will cost an extra $9.
Their product on white and ghost mannequin photos aren't super crispy and impressive.
Our sock photography project would cost 50*39 + $499 add-on fee, so a total of $2449.
We think this is good choice for social media product photography/ content marketing photographer, but not so much for general product listing photography.
10. Affordable Product Photography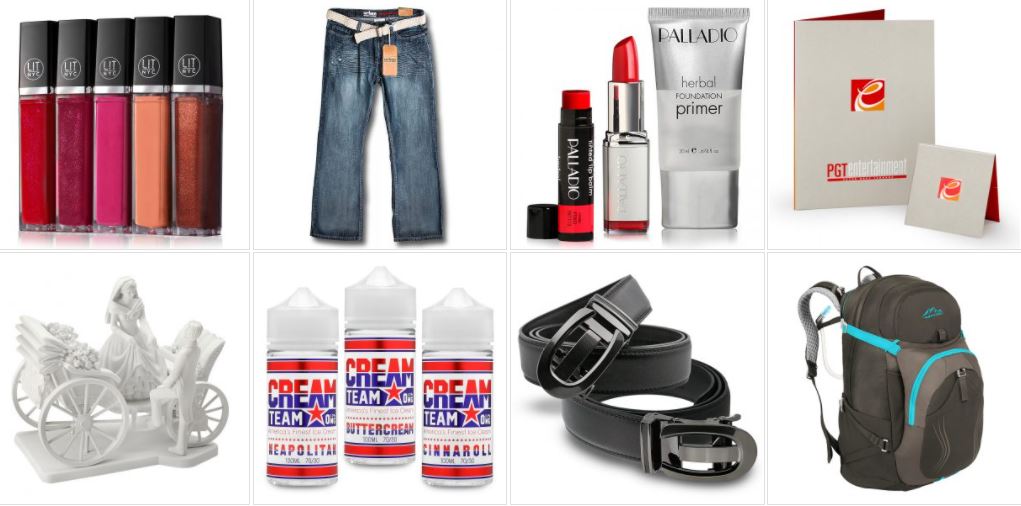 This studio based in Fort Lauderdale and Orlando in Florida definitely lives up to their name.
Pros: Very affordable pricing with decent product on white photos and some minimal styling.
Cons: Lifestyle photography style is a bit dated and this studio also doesn't have sets. Shadow treatment isn't very natural.
Our sock project would cost $1249.5 to photograph at this photo studio in Florida.
Summary.
The imaginary photo shoot would cost $1,129 - $3,249.5 at these product photo studios in the US. Pricing varies along with quality. Quite a few studios seem to specialize in clothing and accessory items, which isn't surprising as these product categories have frequent product launches and are higher volume than say refrigerators.
Still for lifestyle photography there weren't any options with sets, so for customers who need kitchenware photography, table cloths, hardware tools etc, there doesn't seem to be much choice beyond than colorful paper and creative lighting.
---
Bonus:
If you manufacture in China, India, Vietnam or Eastern Europe, consider using our photography services new your suppliers. With us the imaginary sock product photography project would cost $650, and the price includes crispy lighting, styling, and retouch for imperfections (basic retouch)! We have over 150 photographers in China, a variety of realistic sets, models, props, stylists, you name it, we have it.
See samples of our product photography work here.
Learn more about our product photography pricing here.